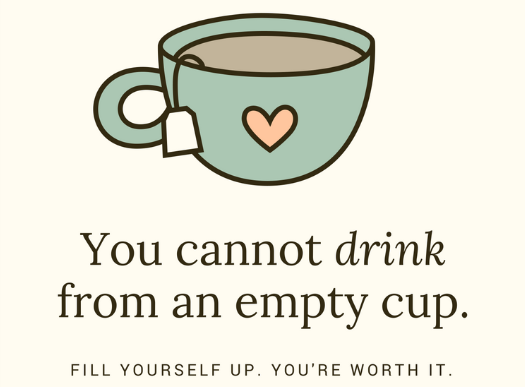 Self-Care for Parents and Caregivers
Studies show that raising children with special needs experience higher amounts of stress than parents of children who are not dealing with special needs. Parents need to keep their cups full in order to best care for their children, yet remain physically and mentally and healthy themselves. It can be hard to find the time for self-care, but it is important to remember it is important and deserved.
Here are some self-care tips to consider:
1. Exercise: Both physical and mental health benefit from exercise. Maybe you find yoga recharging, a walk in the woods or lifting really heavy weights. Whatever fuels your wellness is what is best for you. What if you can't find a baby sitter or child care? Consider walking laps in the park while your child plays on the play-ground. If your child is younger use a stroller to go for a walk. Going for a swim as a family can be a good outlet. Even playing outside can tire everyone out.
2. Nutrition: This can be hard and requires time, work and knowledge. A meal delivery service is an option. If this is not within your price range many grocery stores have recipes and ideas for healthier meals. Look at Pinterest or other social media sites for recipe ideas.
3. Preventative medical care: You must likely spend a lot of time taking your child to his or her various appointments, so probably the last thing you want to do is make an appointment for yourself. Do your best to stay on top of your yearly physical, annual dental cleanings and mental health appointments as needed.
4. Sleep: This can be a major challenge for any parent, but ever more so if you have a child with special needs. If your child is a poor sleeper medical management may be helpful. Other options for getting sleep include trading off which parent/caregiver gets up with your child or perhaps gets to go to bed early. Respite care is available for many families.
5. "Me time": Just 15 minutes a day to do something that recharges you can make a big difference in making your day a little better. It could be in your car on the way to work listening to something you love to hear, meditation, or a bit of reading.
6. Saying "NO": This can be so hard for some of us. You can say no to extra obligations. Now what is valuable to you and know what you don't need to do.
7. Support system: Surround yourself with people who support and lift you up. It could be a religious group, a parent support group or friends and family. There are great organizations such as the Autism Society of Minnesota and the Down syndrome Association of Minnesota are great.
8. Additional support: Contact your county for additional financial and social supports. Some companies also have supports for families with special needs.