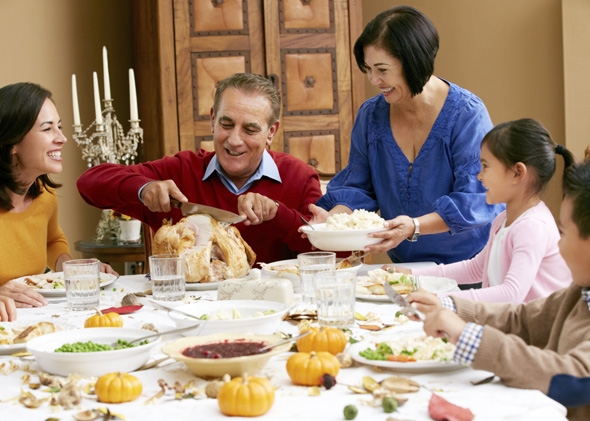 Surviving Family/Holiday Gatherings with Children with Special Needs
Family gatherings are stressful for everyone. For parents with children who have special needs there is an extra layer of stress that can come with holidays and family gatherings.
If your child has feeding difficulties do not expect this to change at a big family gathering. It may be helpful to bring a side dish you know your child likes. Prepare your child by telling them what to expect and what is expected from them. You can also feed your child a meal prior to the family dinner so you can be assured he or she has had a chance to eat. For a child who has sensory sensitivities a big meal with a lot of smells, lots of noises and maybe a house that is a little too warm a holiday dinner is a recipe for overload. If your child can sit at the table, that is great. If this is too much for your child have a quiet place ready ahead of time. If you explain the situation to the host ahead of time, usually they will be accommodating. If not, do the best you can and know that it is one or two days out of the year.
If your child is active and restless and struggles to sit at the table it may be helpful to have activities that allow him or her to stay at the table such as a crayons, fidget toys or other non-intrusive activities. Allow your fidgety child to stand and the table or perhaps excuse him or her after a period of time.
For a child who is a slow eater due to fine motor difficulties it may take longer from him or her to eat. Perhaps allow your child to start earlier. Generally families tend to linger at the table, so this isn't usually an issue.
If your child tends to vocalize, demonstrate repetitive movements or has other behaviors that may seem unusual to family members it is best to educate family members. We strongly encourage including children in family activities as long as they can tolerate it. If other family members have an issue education is the best option.
If your child is easily overwhelmed by a loud family gathering be sure to have a safe quiet place your child can go. Bring along comfort items that will help your child deal with big and strong feelings.
If you have any questions about preparing your child or your family for big upcoming gatherings give us a call! We can help!