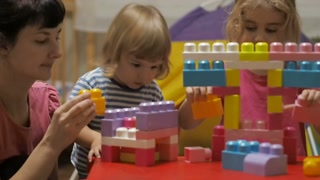 When working with pre-verbal children establishing imitation is very important as a building block for social and language skills. When children struggle with imitation skills it is most often due to cognitive delays and/or autism spectrum disorders.
Using identical objects allows the child to imitate an adult in a way that doesn't require the ability to pretend. It is a very concrete and functional way to begin working on imitation. Here are some ideas:
Imitation with identical objects
· Stack or nest plastic cups or bowls
· Use a wooden spoon to pound on a pot
· Use a small toy hammer to pound
· Make noises into an "echo" microphone
· Pop together or pull apart pop beads
· Snap duplos or big legos together
· Pull apart the duplo or lego towers you made
· Push a toy car, truck or train
· Blow on a whistle or a horn
· Color/scribble on a piece of paper
· Push and flatten play-do
· Pour water in the sink or tub
· Press something to make a noise (a "bell hop" bell, the "red button" from staples, noise maker toys etc)
· Ring a bell
· Turn a noise maker toy upside down (makes a cow or sheep noise)
· Push buttons on a pop up toy
· Wind the crank for a jack-in-the-box
· Pour noodles, rice, beads or plastic "jewels" from a cup
· Squirt water from a small spray bottle
· Shake a pom pom
· Throw or roll a ball
· Pop bubbles with your finger
· Stomp bubbles with your feet
· Finger paint
If you have questions about your child's development please feel free to contact us at
651-636-4155.